Being able to read is the most critical skill for anyone who wants to fully claim and realize the freedoms America promises; this is why Freadom exists. Freadom is a social enterprise created to accelerate and amplify the awareness of and advance the cause for literacy. Freadom designs and sells high-quality, responsibly made apparel and products from which 100% of the net profit supports literacy initiatives throughout America.
Freadom has the audacious goal of investing $100 Million to literacy annually.
We're donating 100% of net profits to fight for literacy for all.

What that means:
Simply put, Freadom defines net profit as revenue from all sources minus all ordinary business expenses and necessary working capital.
*We are just getting started! Therefore, until we are profitable, Freadom commits to donating 10% of all revenue.
The mission:
Advance the cause for, and accelerate and amplify the awareness of, literacy in America.
Our brand promises FREEDOM FOR ALL by fighting for LITERACY FOR ALL. Every single penny of net profits at Freadom will be donated to literacy initiatives which are efficient, effective, scalable and sustainable. At Freadom, we believe the better you read, the more free you will be.
OUR PLEDGE:
Because traditional philanthropy alone will never solve the literacy problem in America, we pledge to:
Raise Awareness
Significantly increase awareness around our country's literacy challenge and make literacy a national priority.
Commit 100% of Net Profits
Once established, commit 100% of our net profits to literacy non-profits which are proven to be effective, efficient, scalable and sustainable.
$100 Million
Aspire to donate $100 Million annually to promising literacy initiatives throughout America.
More than 30 million adults in America cannot read or write and 61% of low-income families have ZERO books in their homes.
We're fighting for literacy for all.
WE BELIEVE
We believe in the idea of The American Dream, but only when it is accessible to ALL.
We believe in an equitable pursuit of happiness, for ALL people who call America home.
We believe your probability to succeed in life should be determined by how hard you work, and NEVER by where you are born or who you are born to.
We believe reading is the foundation for true freedom.
We believe in the transformative power of reading; literacy for all should be a key performance indicator in defining our success as a country.
We believe in citizenship, not just in how it outlines our rights and privileges BUT more importantly how it defines our duties; we must all get into the "arena" to make our communities better for future generations.
We believe in servanthood, thinking of others first.
We believe in striving to live a life of significance, not just success.
We believe significant people do things NOW, especially when it comes to inequity; there should be no patience or tolerance for imbalance in equitable opportunity.
We believe in taking risks, innovating and iteration, especially on behalf of others who are less fortunate.
We believe in being unrealistic.
We believe there is incredible redemptive value in giving; when we give, we receive.
We believe if you are going to wear something or utilize something, it should always be taken as an opportunity to stand for something.
We believe in having uncomfortable conversations and taking uncomfortable actions on behalf of the most vulnerable.
We believe Freadom is worth the fight.
Brian Floriani – Founder & Steward
Brian is a believer, a seeker, a reader, a dreamer and a doer; biased to action.
Raised in Dover, DE, Brian now resides in the Chicagoland area.
A recovering Golf Professional with an Entomology Degree, Brian feels grateful to have found his passion and his WHY – Literacy for All. Brian believes all people should have an equitable opportunity to pursue happiness and has dedicated his life to help assure this is a reality in America.
At his core, he is an "Entrepreneur for Literacy". In 2009, Brian founded Bernie's Book Bank. Bernie's Book Bank is a children's book bank which serves more than 300,000 under-resourced Chicagoland children with 12 quality books per year from birth through 6th grade. The vision of Bernie's Book Bank is to build an ultra-effective, efficient, sustainable and scalable children's book bank model to be replicated in every major American city to assure all children have the ability to read their way to a better life. Brian remains an integral part of Bernie's Book Bank in Chicagoland and will play a critical role in national replication efforts.
Brian enjoys doing ANYTHING with his children and immediate family, and feels blessed by all things LIFE presents, its triumphs and its trials.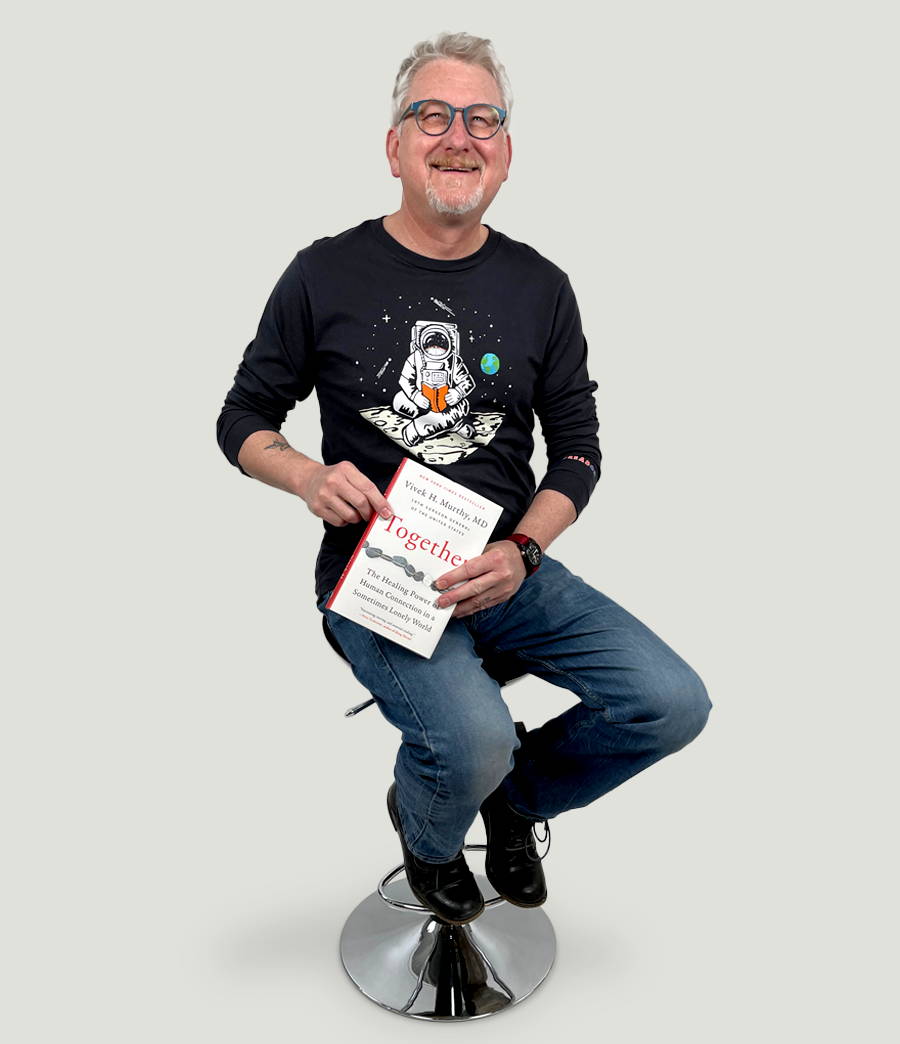 Derek Moore – Creative Steward
A creative visionary, Derek is truly one of those people whose gained a reputation as someone who is not afraid of the hard work it takes to discover, create and build solid brands. For more than 35 years, he's landed hundreds of awards, revitalized numerous brands, and created work environments that bring out the best in his teams. Derek is a repentant advertising and marketing executive with the rare combination of both strategic and creative execution skills which he has applied across traditional, digital and data-driven media channels to build brands and drive sales. He has innovated integrated marketing and brought fresh thinking and accountability to award-winning work for a variety of brands, including Bernie's Book Bank, McDonald's, Gatorade, Kellogg's, Dyson, Dewar's Scotch, Hallmark, United Airlines, Disney, John Deere and Allstate (to name just a few).
A lover of ink-on-paper books, reading and all things artistic, he has eclectic tastes in music, books, food, drink, art and in life. Derek also enjoys cooking, gardening, fishing, spending time with his wife, Kim, his three adult children and, when he has time, making music and art.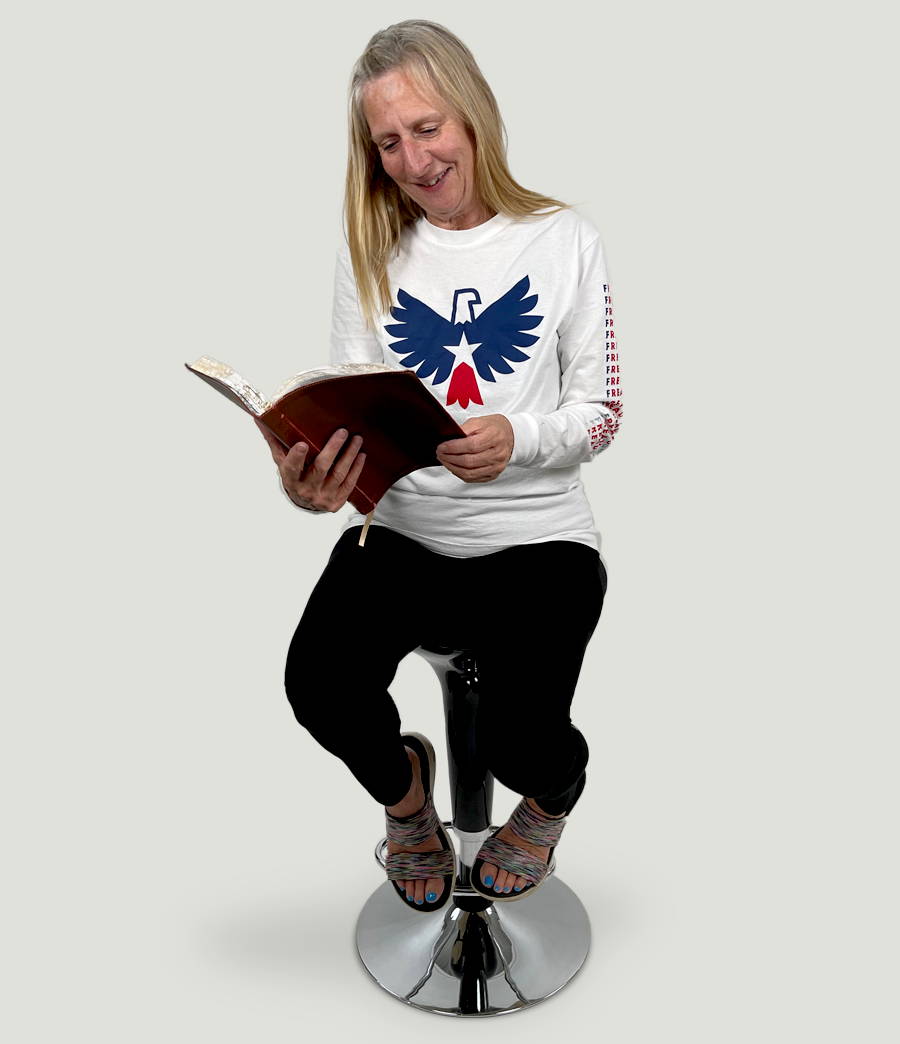 Annie Hansen – Operations Associate
Annie joined the Freadom team in 2021 as Operations Associate with more than 35 years of experience in hospitality, project management and customer service. A lover of people with a generous servant heart, Annie believes words have power to change the world. An avid reader, Annie remarks, "I know how reading exploded joy into my children's lives and I strongly believe literacy should be a birthright available to everyone."
At Freadom, Annie leads fulfillment and quality assurance to ensure efficient day-to-day operations. "Everything happening at Freadom is for the benefit of loving our neighbor," says Annie. "We get to be the hands and feet of God." In her spare time, Annie can be seen kayaking, ice skating, laughing with her family or bicycling in her bare feet.