ON THE ROAD

TO FIND
F

READ

OM'S 1OO
BEST PLACES
TO READ IN AMERICA
Announcing the first annual Freadom's 1OO – it's an UNPRECEDENTED celebration of the 100 BEST PLACES TO READ IN AMERICA, but it will only be UNPRECEDENTED if you get onboard.
Freadom celebrates readers of all walks of life and we are on a mission to capture all the amazing places people read. These are the places one feels most alive, inspired, safe or easily transported to a different time, place or even… a different world. It is the place where they feel the most like their true self. It's Freadom's goal to promote and encourage literacy and reading; in doing so, we want these kinds of places for everyone. It is what we're fighting for, a place of #literacyforall!

Kicking off March 2, 2021, Read Across America Day, and running through July 16, 2021; Freadom is creating an opportunity for everyone across the country to share their favorite, and BEST, places to read.
---
Help US in Our Search for Freadom's 1OO Best Places to Read in America. Shoot and upload a photo of you in your best place to read!
We're asking you to share in the search and upload a photo of your favorite, and best, place to read. The photo you submit is really important. It's creativity & artistry will play the central role in the selection process, and we want to receive thousands of submissions.
The 100 best images will be selected by an esteemed panel and those whose submissions are selected will receive a $50 Freadom Gift Card for cool Freadom swag in addition to bragging rights.
EVERY PERSON WHO ENTERS GETS A FREE STICKER PACK WORTH $12
Get on the bus! Go out and take a photo of your favorite place to read. Ideally you or someone you know will be in the image, reading.
We are looking for: every-day places, exotic places, interesting places, indoors, outdoors, all times of the day; and pics of people of all ages and from all walks of life, reading.
Photo quality and creativity are really critical; we are looking for beautiful and awe-inspiring photos... photos of places others would want to find themselves reading as well. Your photos should evoke emotion.
If you don't feel photography is your forte, ask a friend who has, "an eye" (we all know someone who takes great pics), to take some photos of you in your most amazing place to read.
Use the form below to enter to win! Upload your photo here:
SOME OF THE BEST PLACES TO READ IN AMERICA?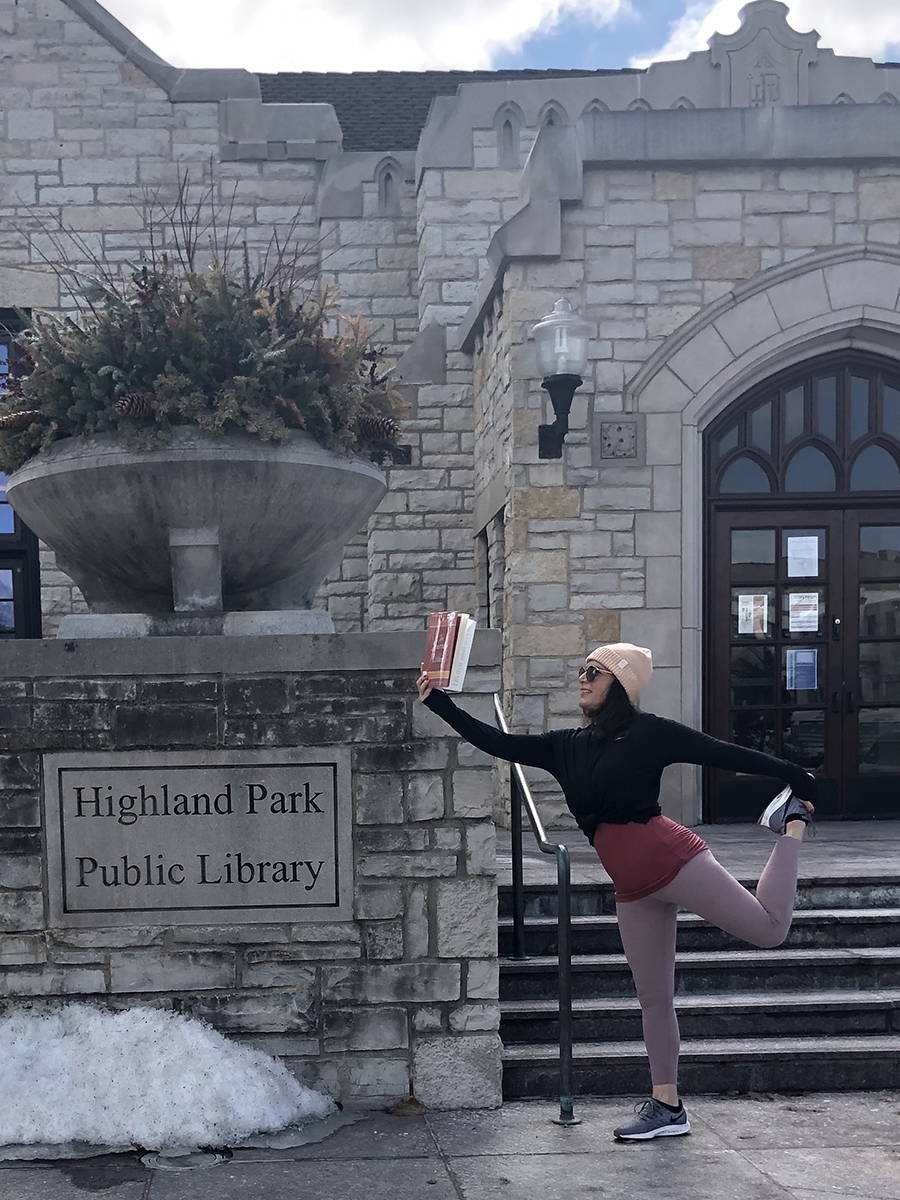 Aly
As a children's librarian, I have a passion for books and sharing them! A few other passions of mine are yoga/mindfulness and being outside. I combined all of these at my wonderful public library in Highland Park, Illinois!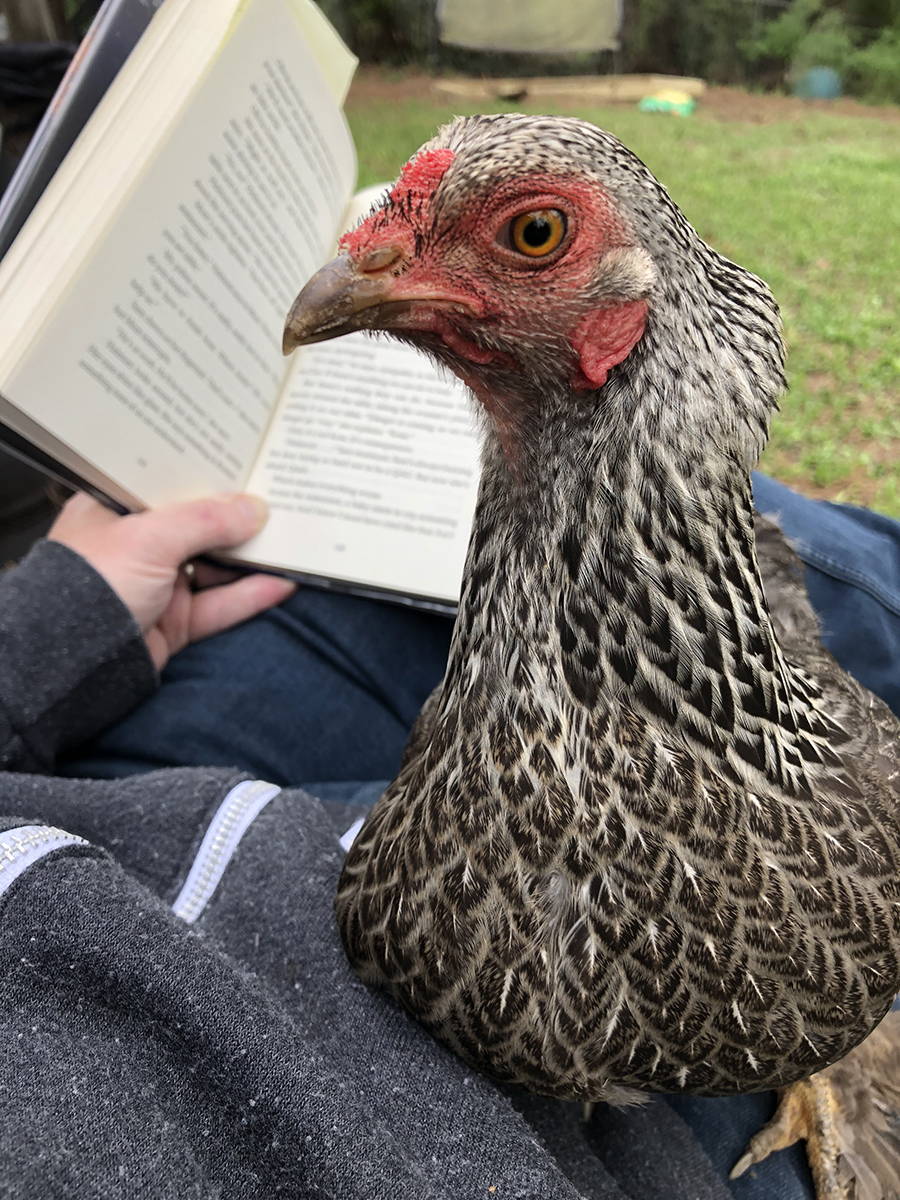 Stephen & Destiny
Today was just a beautiful day. The weather was nice, the sun wasn't too bright, and there was only a light breeze. Heading outside to read in the backyard seemed like the perfect thing to do. As I got settled in, I was joined by an unlikely friend, Destiny, one of our chickens, apparently wanted to read a little while too.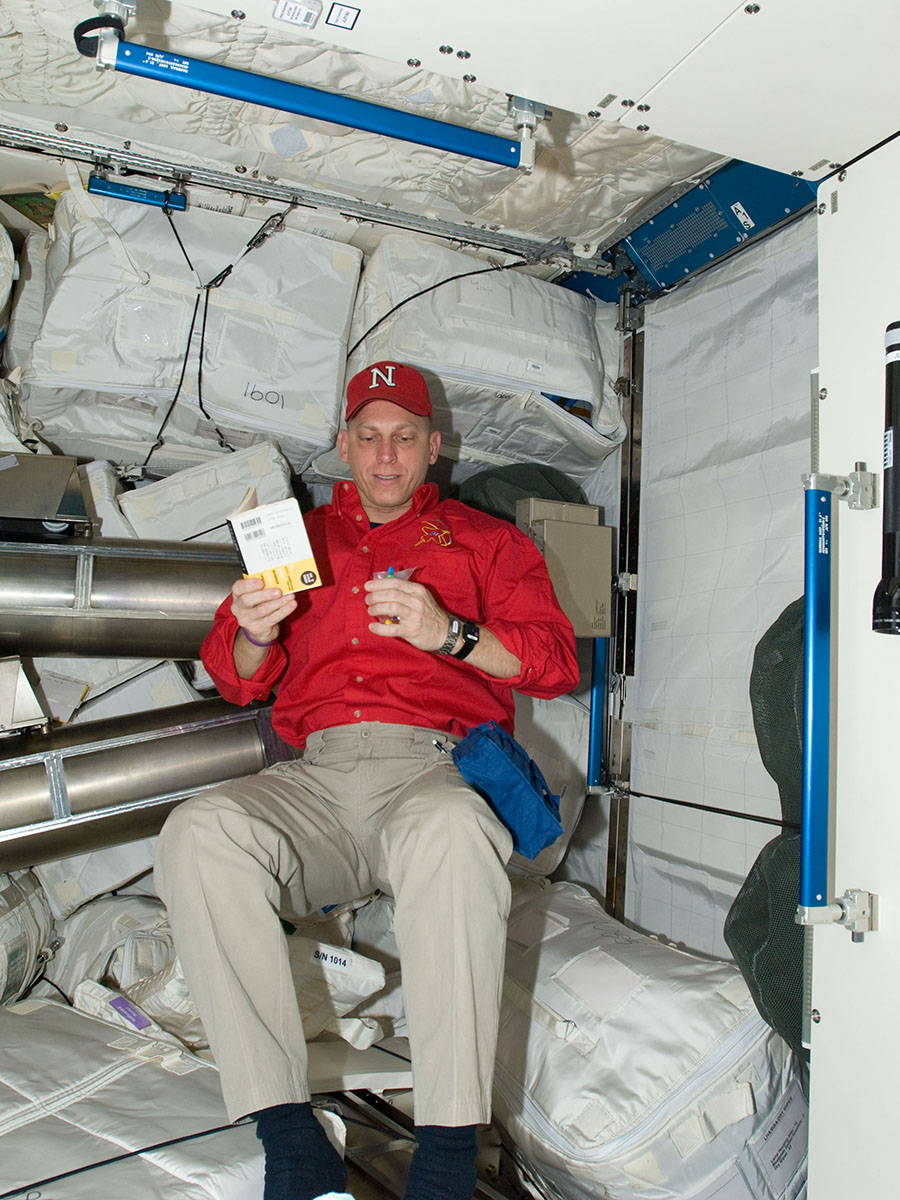 Clayton
I promised myself that one day, I would fly to space, and read a book while eating M&Ms while floating in that module. I accomplished my "bucket list" item in April 2010, with the crew of STS-131 and the space shuttle Discovery.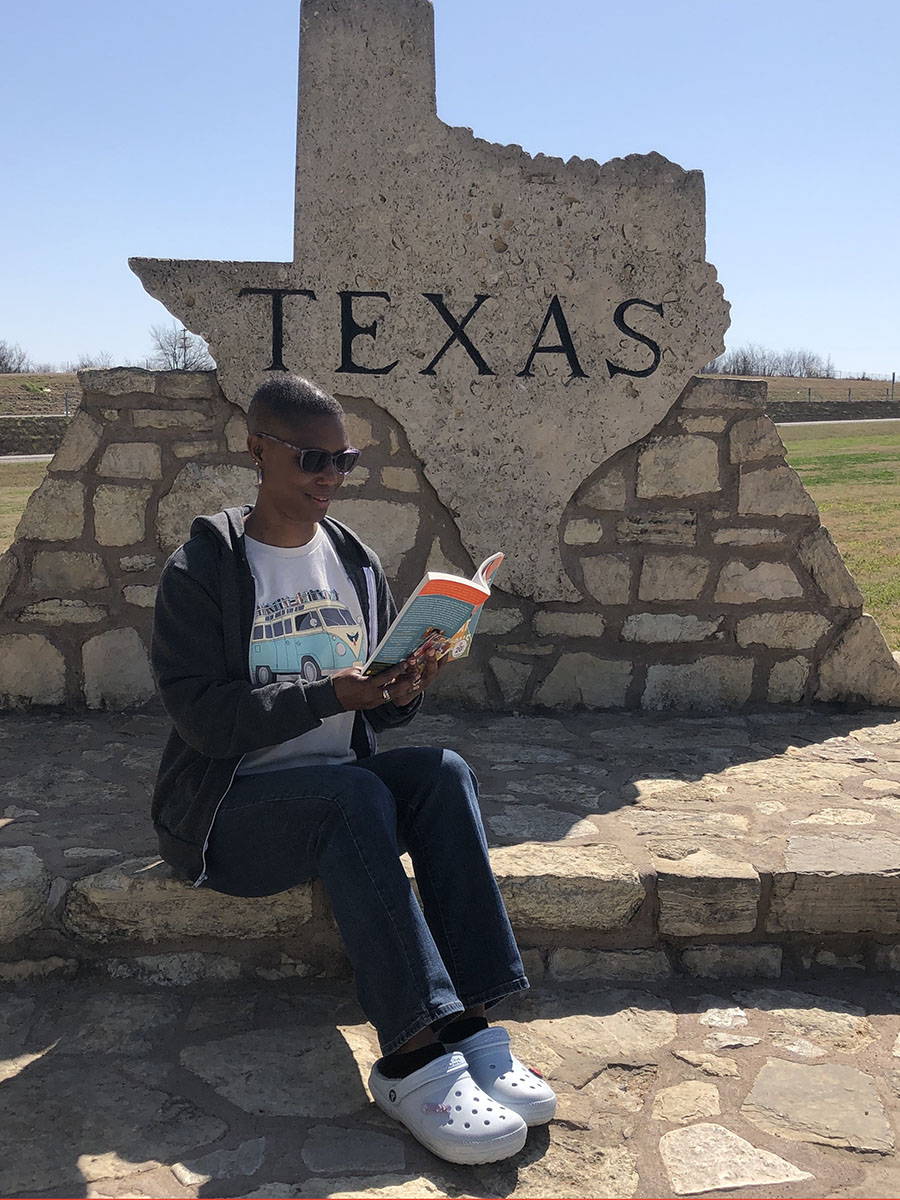 Donnetta
This was another quiet place to read while the family took care of some business at the Welcome Center. The sun was shining bright, the temperature was cool and comfortable. Rather than reading in the car as I waited, this spot in front of the Texas monument was devine.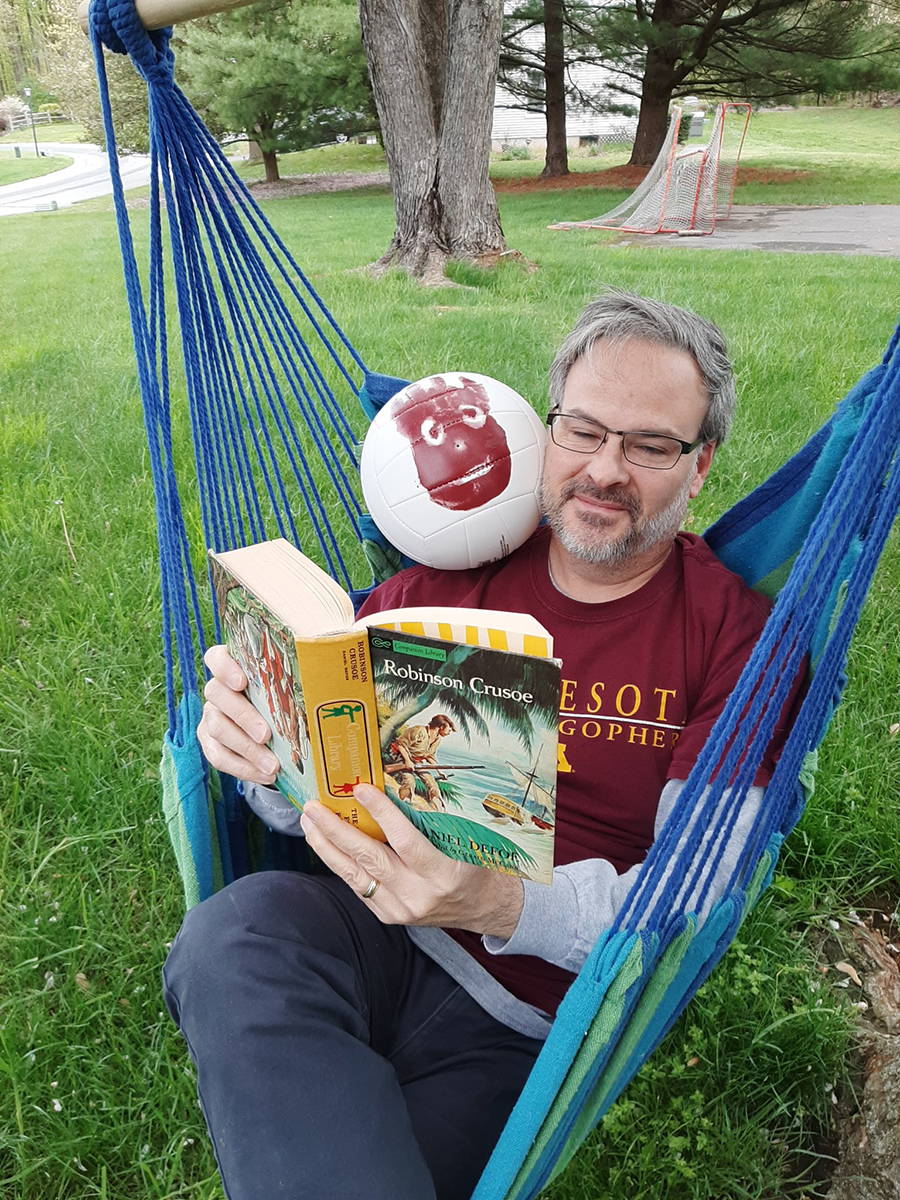 Kathleen
It's quiet and secluded and was the best place for quarantine reading with Wilson!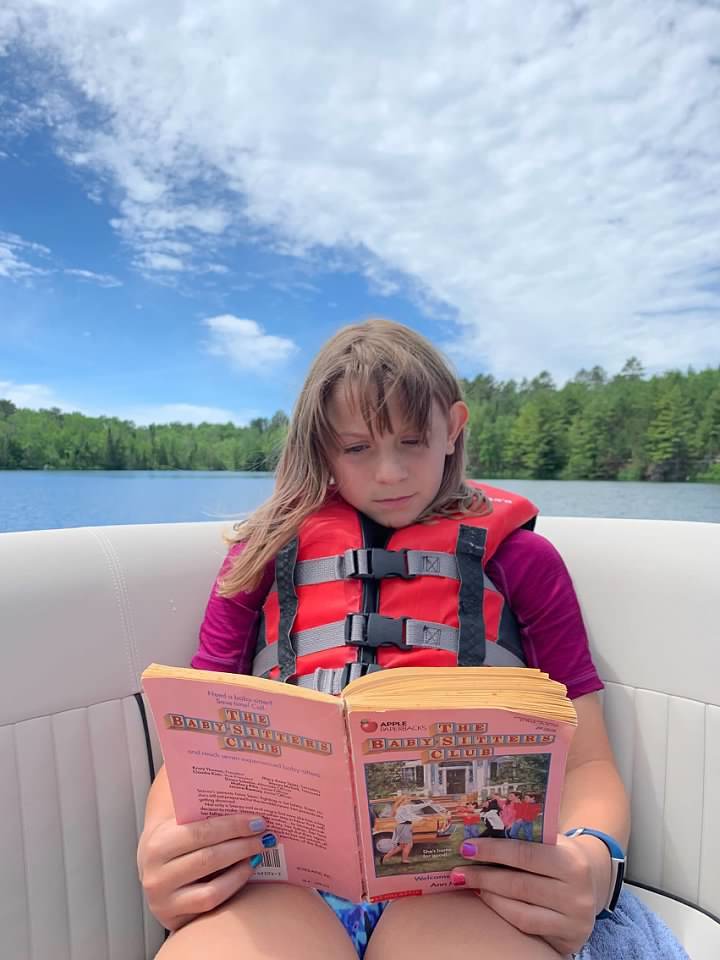 Erin
My daughter discovered my beat-up copies of childhood favorite - The Baby-sitter's Club books - and she got so hooked that she wouldn't even put her book down while we were cruising around the lake on a boat! Unfortunately, the book was so well-loved and falling apart that a small chunk of pages got caught in the wind and went flying overboard (luckily, it was a part she'd already read!)
Angelina
There's a beautiful tree next to a place we like to have brunch. The only reason my daughter wants to go is to sit in the branches of the tree and read. She loves that tree, and I love watching her read.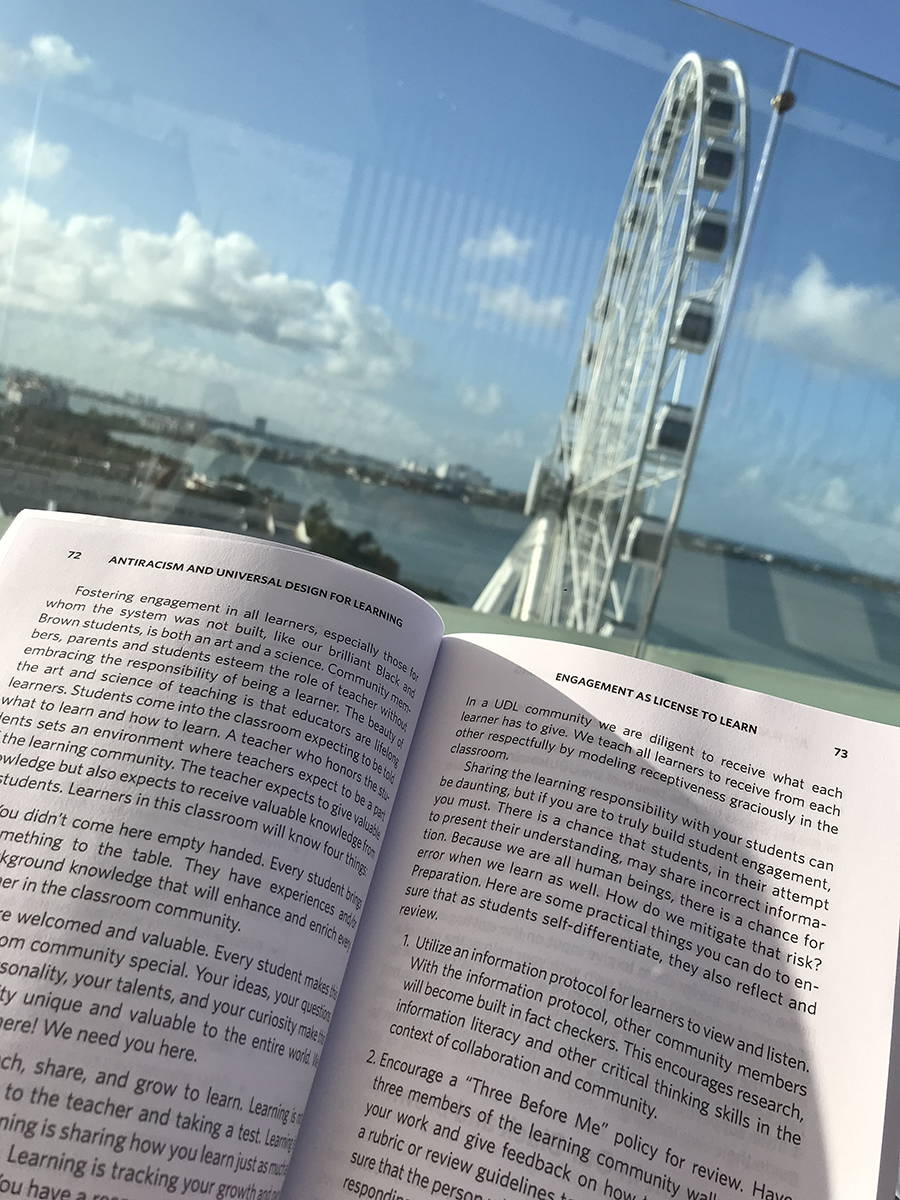 Heather
I spend so much time indoors while we're virtually learning so being able to get out and enjoy the world around me keeps me motivated for my students!
Being able to read is the most critical skill for anyone who wants to fully claim and realize the freedoms America promises; this is why Freadom exists. Freadom is a social enterprise created to accelerate and amplify the awareness of and advance the cause for literacy. Started in late 2020 by the founder of the highly successful nonprofit, Bernie's Book Bank – Freadom designs and sells high-quality, responsibly made apparel and products from which 100% of the net profit supports literacy initiatives throughout America. Freadom has the audacious goal of investing $100 Million to literacy annually.